Investor Overview
Corporate Profile
Outlook Therapeutics is a biopharmaceutical company working to develop and launch ONS-5010/ LYTENAVA™ (bevacizumab-vikg) as the first FDA-approved ophthalmic formulation of bevacizumab for use in retinal indications, including wet AMD, DME and BRVO. The FDA accepted Outlook Therapeutics' BLA submission for ONS-5010 to treat wet AMD with a PDUFA goal date of August 29, 2023. The submission is supported by Outlook Therapeutics' wet AMD clinical program, which consists of three clinical trials: NORSE ONE, NORSE TWO, and NORSE THREE. If ONS-5010 ophthalmic bevacizumab is approved, Outlook Therapeutics expects to commercialize it as the first and only FDA-approved ophthalmic formulation of bevacizumab for use in treating retinal diseases in the United States, United Kingdom, Europe, Japan, and other markets. As part of the Company's multi-year commercial planning process, and in anticipation of potential FDA approval in August 2023, Outlook Therapeutics and AmerisourceBergen have entered into a strategic commercialization agreement to expand the Company's reach for connecting to retina specialists and their patients. AmerisourceBergen will provide third-party logistics (3PL) services and distribution, as well as pharmacovigilance and other services in the United States.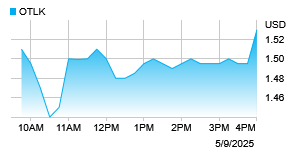 Data Provided by Refinitiv. Minimum 15 minutes delayed.
Latest News
May 15, 2023
April 27, 2023
March 13, 2023
Upcoming Events
More events are coming soon.