Investor Overview
Corporate Profile
Outlook Therapeutics is a pre-commercial biopharmaceutical company working to develop and launch ONS-5010/ LYTENAVA™ (bevacizumab-vikg), an investigational therapy, as the first FDA-approved ophthalmic formulation of bevacizumab for use in retinal indications, including wet AMD, DME and BRVO. Outlook Therapeutics originally submitted its BLA to the FDA for approval of ONS-5010 for the treatment of wet AMD on March 30, 2022. After conversations with the FDA about the filing, the Company has voluntarily withdrawn the BLA as it works to provide supplemental information that the FDA has requested. Outlook Therapeutics remains in active discussions with the FDA and expects to resubmit the BLA by September 2022. With the inclusion of the additional information the FDA has requested, we expect to submit for regulatory approval of ONS-5010 in multiple markets based on our successful Phase 3 clinical program in wet AMD. If ONS-5010 ophthalmic bevacizumab is approved, Outlook Therapeutics expects to commercialize it as the first and only FDA-approved ophthalmic formulation of bevacizumab for use in treating retinal diseases in the United States, United Kingdom, Europe, Japan and other markets.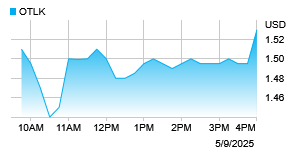 Data Provided by Refinitiv. Minimum 15 minutes delayed.
Latest News
September 27, 2022
September 26, 2022
September 7, 2022
Upcoming Events
More events are coming soon.